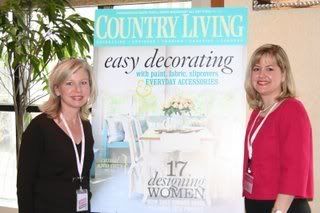 Okay, this post is really tardy, considering we went to Chicago for the Country Living Magazine Women's Entrepreneur Event back in March. But, please forgive, we have been so busy creating and building our business, that we have gotten terribly behind in blogging. As a matter of fact, we have decided to blend our blogs here on our Sweet Funky Vintage blog instead of blogging separately. So, for all of the latest and greatest news from our lives, check here!
Now, let us tell you about Chicago! We decided to compose this post together, so Missy's comments will be in Pink, and Liz's comments will be in Green.
I arrived at O'Hare about an hour and half before Liz. It was only about 8am, so the first thing I did was search out a Starbucks! She called me on my cellphone a short time later and we discovered we were only about 2 baggage carousels away from each other, so joining up was a breeze.
We hired a car at the airport and headed to our hotel - the Hotel Monaco!
The Monaco is my absolute favorite hotel in Chicago! It's very boutique-y and girly plus they serve wine every night and coffee in the morning and you can't beat the location, just a block off of Michagan Avenue, but across the river, away from the ambulances!
As the purpose of our trip to Chicago was business, we intended to go straight to our room and get right to work preparing for our presentation to Country Living magazine. Sadly, we were there so early, our room wasn't ready yet, so we had to go shopping instead!!!!
Oh yeah, that's the reason we went shopping, I am SURE we would not have gone if our romm had been ready. Hmmm, maybe I'll try that one on my hubby to explain that Amex bill!.
Liz had been to Chicago before, but I never had, so I was just so excited to be in the city itself! I took random pictures like this, but will not make you suffer through looking at all of them!
One of our first stops was
Garretts
. I had never heard of it before, but Liz assured me that it is a famous Chicago landmark. She was amazed that there wasn't a line out of the door and said that we MUST stop in as it might be our last chance to visit with no line. (She was right, we passed by it several more times throughout the weekend and every time there was a HUGE line.) It was really quite funny, because we step in the door and there is one customer at the register paying, so we step up kind of behind them and the person behind the counter kind of barks to us, points to one direction of the store and says the line is over there. Liz and I both look around at the otherwise deserted store and kind of look around like, "what line?"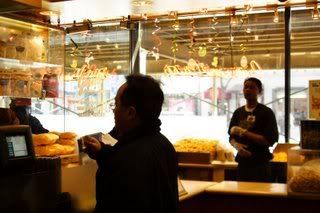 Here is Liz, showing off our Garretts goodies...
As Rachel Ray would say, "yum-o"! Garrett's specail mix is cheddar popcorn mixed with caramel popcorn. Missy thought I was a total lunatic when I told her we had to get it, but she became a believer after the first mouthful! No kidding about the line, EVERY single time we walked by after that there was a HUGE line!.
And a closer look into the bag itself - it was their special mix of flavors. Unbelievably good.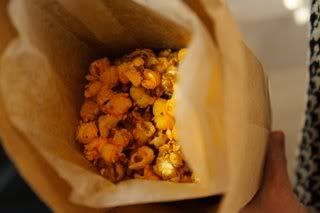 Now, Liz is going to kill me for the next picture - but that is what you get when you don't take your camera along!!! And, she totally gets even for taking a picture of me eating later in the trip!
Note to self: bring camera to quilt market in Houston!.
I stopped by the American Girl store to get a little something for Georgia: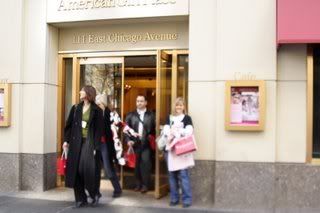 We literally, shopped until we dropped that first day. We were so tired, that we ended up staying in the hotel and eating dinner at the restaurant downstairs. Which is really quite funny, because we ate there EVERY NIGHT of the trip! We didn't intend to, but we just ended up there each night. The food was really good, so it was no big deal. But, we were in Chicago with a gazillion amazing restaurants, and we were there for 3 days, but we ate dinner at the same one restaurant the whole time!! The restaurant was called
South Water Kitchen
.
The next day was Friday, another big day of shopping. We went to another part of Chicago, a couple of streets that had some really neat stores. It was the Lincoln Park - Armitage Avenue and Halstead area. We started at the
Paper Source
- what a fabulous place!
Here is a picture of Liz and I standing in Paper Source:
We don't have pictures of some of the other fabulous places we shopped that day, but we really had fun in a children's boutique called
Stinky Pants
. I bought some really cute things for my girls. The cutest t-shirt for Olivia:
and I love, love, love these hairbows: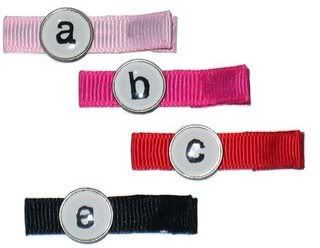 We had lunch at the cutest restaurant,
Minnies
. They had all of these cute little sandwiches to choose from.
What's not to love about tiny food?.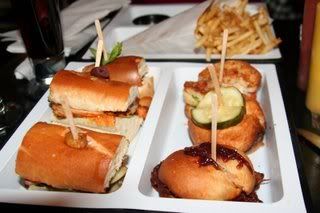 Alright, this post is going to have to be done in several parts, so here is the end of part 1. I will leave you with a photograph of our shopping loot!
Really just a little shopping to fill the time until we could check in....we had to buy extra suitcases to get it home!.